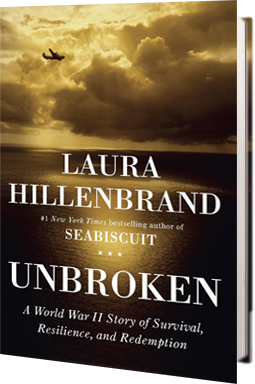 I listened to the
Audible audibook version
Laura Hillenbrand's "Unbroken" is a phenomenal historical account of the life of Louis Zamperini, and is certainly topical to those interested in both running and survival history, in addition to a deep account of the Pacific theater of WWII. Zamperini was a world-class Olympic distance runner who was honing his skills in the mile when war interrupted his promising young life. As a bombardier in bulky and unreliable aircraft, he had numerous close calls. Eventually, instead of having a chance to battle for the coveted 4-minute mile, he instead was focused on unwittingly attempting to surpass the world record for survival at sea, and eventually survival as a prisoner-of-war. And these are only the basics of the story, I'm not really giving away anything here, as the details are more incredible.
Finally, the biggest realization I had from this book was letting the details of the war settle in for several hours, from the point of view of a single actor, and then imagining the psychological impact of the atomic bomb, from the point of view of a world that had little to no previous understanding of it. I've read technical accounts of the Manhattan project, and reserving any judgment on the overall merits of the bomb, I've never properly imagined the disbelief of soldiers, civilians, and especially prisoners at the moment a devastating yet decisive force was unleashed in the world.
But back to the individual level, the story of Zamperini is absolutely incredible, and highly recommended.