Inaugural Rock and Roll Marathon in Denver.
3:03:57.
J & Tammy with their bling:
J & Mara:
Had a fun time with friends on a gorgeous fall day in Denver. Nice and chilly to start, warmed up towards the end. J, Tammy, and Mara ran the half, and friend Nora graciously volunteered for the day, while my friends
Alex
and Will ran the full. Also saw my friend Ray from HP coming through the park, didn't know he was running, and he ended up with a great PR.
I didn't know what to expect heading in. I signed up since we were moving to Denver, other people were doing it, and hadn't done a road marathon since Boston last year. I thought with the Lean Horse training, it would either be a great idea, or a horrible idea. Turns out it was just a middling idea. All the miles helped to get 'er done, but lack of specificity for the marathon made it less than I know what I'm capable of. Still, I threw caution to the wind and decided to go for around 3 hours, a barrier I've never broken in the marathon.
And still haven't, at 3:03:57. Oh well. It is a PR, and I can't feel too disappointed: I worked pretty hard to qualify for Boston a few years ago and just barely did it. Now it's kind of a default when I'm healthy, and even though I know much faster people, I can't take what I have for granted, ever. I lost those 4 minutes in the last 5 miles, but I know what I need to do to pick it up. Maybe getting at racing weight and/or an easier course would be enough, but certainly just putting in the work is really what I would need. I would like to do that, but I also really prefer the trails!
But it was a fun time. Another neat aspect of the 100M training, as Alex pointed out, is how fast, psychologically, a marathon goes by now. Right now an hour is a third of the race -- a 100M might be an hour to the next aid station, and there's 20 of 'em!
Back to Denver: the RnR series is sleek and run like a machine for the most part. I didn't hear all that much music though. The course is a fairly scenic tour of Denver, with the best spots being in the beginning and end, in my opinion. The parks are OK but have a lot of looping. The worst section was the Bridge of Death between miles 23 and 24: enough said if you ran it.
So I experimented with some racing flats for the first time, these bad boys: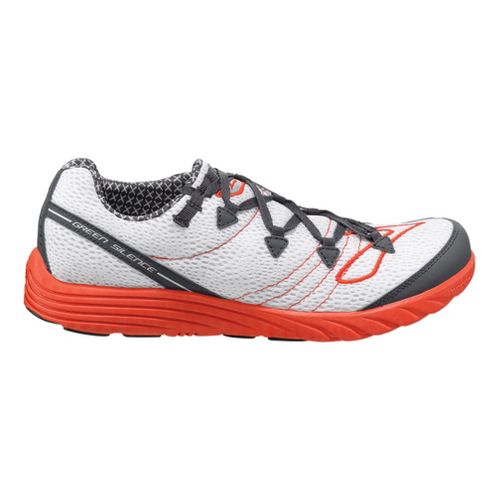 They (Brooks Green Silence) deserve a separate review. I was and still am excited about these shoes, both in concept and execution, but I did have some blister issues. But, I only ran in them 3 times prior (couple 12-13 milers and a 3 miler), I did feel a pressure point in one foot. However, that is where I had a slight blister/callous from Lean Horse, which had a little bit of tender skin. Wasn't holding me back any, until today:
Whah! Actually didn't really slow me down or affect my gait, just something I could feel. Wish I had better results on these shoes for advertising purposes (though maybe, and likely, I would have been slower in trainers), but I do feel like they held up well for the duration and I'm going to keep them around for racing and speedwork.
On the way home, had a great time stopping for breakfast/lunch at Pete's Kitchen:
Finally got to try this iconic, 24-hour greasy spoon. The coffee was weak and bland, but the service was quick and the food was deliciously unhealthy: exactly what we wanted!